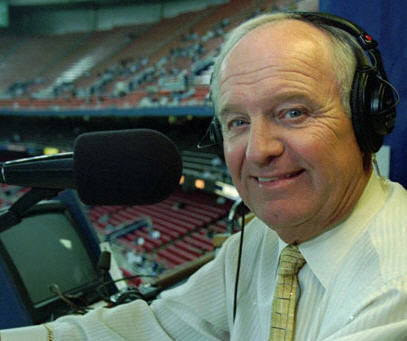 Sadly,
dave niehaus
tops the trends this evening, starting up around five hours ago. Niehaus, aged 75, was the commentator and sportscaster for the Seattle Mariners baseball team from 1977 through their current season in 2010. The voice of the Mariners passed away this evening from a heart attack.
Known for his quote of "My, oh my!," Niehaus was one of the first commentators to coin the nickname A-Rod for professional baseball player Alex Rodriguez. During his time as sportscaster, Niehaus broadcasted
over 5,000 games
for the Mariners. Without a doubt, Niehaus is known as one of the most memorable sportscasters in major league baseball history.
For those interested in hearing what has come to be known as the voice of the Mariners during their 1995 win fo the AL Division Series, check out this clip
here
.
On a lighter note, the 44th Annual Country Music Association Awards were held tonight. This drove two interesting searches to the top of the trend lists,
reba mcentire
and
how old is loretta lynn
(I got a kick out of the second one).
A related search was
if i were a boy
, which was the chart performed by McEntire this evening--an interesting pick for the CMAs, since the song was originally performed as an R&B chart by Beyonce. However, the most likely cause for Reba's jump to the top was her disappointment in some of the nominations at the CMAs--mainly that of Entertainer of the Year. The nominations for this award have been a bit controversial, as many of the more veteran entertainers were left out in place of newer faces.
Loretta Lynn jumped to the top following a tribute to her this evening, sung by Sheryl Crow and Miranda Lambert. At the end of the performance, Lynn joined the two younger faces in her own tribute.
When a trend asks a question, I aim to deliver--Mrs. Lynn is aged 76.